4º Internacional Bridge Festival 30.11.2019 – 08.12.2019 / SUNWAY SITGES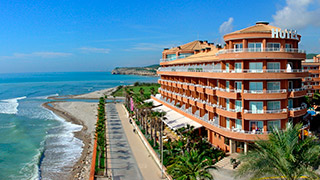 FREE participation in all tournaments during your stay at our Hotel Sunway Playa Golf & SPA, if you book your accommodation directly with us, with full rights to the prizes.*
Entry fees are included in all tournaments for minimum stays of 8 nights.

* Free participation will not be included if the reservation was made through an external tourist provider (travel agency, web portals, etc.)
The Hotel Sunway Playa Golf & Spa Sitges is pleased to announce that it will host the Sunway International Bridge Festival of Sitges, from 30 November to 08 December 2019, with more than 15.500 € in prize money.
This official website of the tournament contains all the Festival information (rules, registration fee, accommodation, etc), as well as the contact details of the Organization, in case you have any further questions.
The Hotel Sunway Playa Golf & Spa has organized the SUNWAY INTERNATIONAL BRIDGE TOURNAMENT weekend for four consecutive years. These bridge tournaments are unique in the city of Sitges (Barcelona). We can proudly look back at these weekends, which most players have thought successful. This year, we wanted to be more ambitious, and we decided to have a longer event. In this 3rd edition of this ambitious BRIDGE FESTIVAL format with 4 competitions that last for 9 days, we expect you very many!